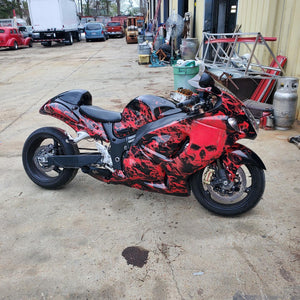 Vinyl Wrap vs Custom Paint Job: The Pros & Cons to Creating a Custom Motorcycle
When customizing the look of your bike there should be a few things you research before dropping a load of cash.

Know the Limits and Pricing
The most convenient way to make sense of the customization alternatives is by taking a look at them like commitment alternatives. There is a huge wide range of pricing going down the path to design and wrap your bike or have a custom paint artist use your bike as the canvas. 


Custom-made Paint Job
On one side, there's the wait, the patience and on the other side, there's the work of art, the benefit. Any custom paint work from the right artist is truly a distinct look, however getting it for your motorcycle is a long-term path. Since nothing is actually permanent (in terms of design), when we state irreversible, we suggest fastidiously, long, treacherous process to remove. You need to understand if that is something you're ready to take on.

PROS:

Design Details: Although the very same style can be digitally printed, close-up is where the distinction comes into play.
Custom Value: The kind of paint-job could favorably impact the bike's resale worth. On the other hand, personalizing your bike to a specific theme or personal interest might decrease the worth of your bike due to what potential buyers have an interest in.
The Clear Coat: No Vinyl can produce a shine like high buff clear coat. 

CONS:

Very Pricey: Layers on top of layers, plus the time in between it takes for each layer to dry is what makes the rate increase. The deeper the shine and the intricacy of the graphics ... it can get pretty in-depth.
Labor: Due to the paint application being a manual job, like everything else there is a risk for error. You need to rely on that the painter is proficient at what they're doing. Any error in the application could cause chips or fade after a while.
Completion Time: It could take about 2 weeks to finish, however that's being generous.

Pricing

For full custom painted bike, beginning cost could be anywhere from $900 for a single stage color to $1,500-- $8,500 for numerous colors with in-depth graphics. The cost likewise changes based on the intricacy of the graphics/designs and the depth of the paint, as in the variety of layers and finishing to provide it that high gloss.

Self Painting

You'll be doing the installation within a place to paint? Even if this is a one-time task, leasing the devices and the space are expenses that do not fall into the total of the paint job. Expense and quality, be aware of the dangerous chemicals utilized in paint.

Vinyl Wrap
When choosing vinyl it's all about the graphics and being able to preview graphics before applied. Vinyl can use an extensive array of colors, surfaces and graphic styles that paint does not. If you're aiming to show off your creative frame of mind or character, vinyl wrap is your guy.

PROS:

Protection: Premium vinyl wraps are understood to safeguard your motorbike's paint. The toughness within the product would secure the paint from sun direct exposure and abrasion.
Endless Color Options and Finishes: Because the style is printed on the vinyl, you can let your creativity cut loose. What you picture can come true.
Reversible: If for some reason you're tired of the very same look and you wish to change to a brand-new design, you can remove the wrap safely with no worries of damages to the initial paint.
Short Time to Complete: A vinyl wrap can easily be installed in 2 full days

CONS:

Poor Setup: An amateur who installs your wrap improperly could:
leave scratches on the finish of your motorbike.
leave careless edges along the fairings.
run the risk of the bodywork and paint getting corrosion if water gets caught inside.
Shorter Lifespan: The average lifespan of vinyl product varies from 7 to 15 years, depending upon the producer. Once the motorcycle is wrapped, the real life expectancy fluctuates based upon environment direct exposure.

Prices

The three main costs are design time (for custom), print cost, and install labor. For a custom-made style, printed and installed could range anywhere from $600 to $1,000.

Setup

Installing a vinyl wrap is something you can do on your own and within the convenience of your own garage, however to get an expert appearance would take some serious skill. It's mainly due to the fact that finessing the wrap around the contours and curves of your bike is the most challenging part as well as proper planning and alignment. Although it can be a DIY project, it is not often a solo job. To make sure that there are clean edges and no bubbles, you would need another pair of hands. On the bright side, at least the tools required are less expensive than paint tools.



Choose the Right Option for You

When adding a custom look to your bike, you need to ask yourself what you are willing to dedicate to. Even though we are a custom vinyl wrap company, there are many times we suggest to customers that paint might be a better option for a multitude of factors. Give us a call for a for a consult, or send us an email.





---